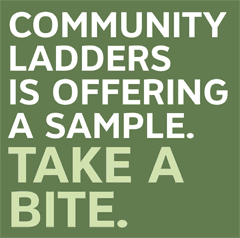 We believe in the power of one-on-one personal financial planning to empower individuals and couples to take control of their personal finances and protect their wealth. And we realize that not everyone is ready for such a commitment. To make the Community Ladders approach accessible to even more people, we are proud to announce group personal finance seminars.
Group seminars provide a comprehensive overview of personal finance issues, a guide to building and protecting your wealth, and our tips for navigating it all—all without digging into individual situations. In short, we're passionate about helping you help yourself
The possibilities are endless. Here are a few group planning scenarios:
Expectant couples come together for a dinner party seminar on planning for their first child.
Recent college graduates organize a small happy hour focused on setting up their first apartments, buying a car, navigating employee benefits, and practical budgeting.
Friends contemplating homeownership spend a morning looking into the many pathways and considerations around saving for and buying a home.
Family members gather for a guided, in-depth conversation about multi-generational planning and the issues for families to consider over time.
By committing possibly less than you might spend on a night out and 2 hours of your time, you can take the first step toward responsible and empowered personal finance management.
The Details
Group seminars are charged a flat fee of $495. Group seminars last approximately 2 hours and typically include a conversation-style presentation followed by in-depth Q&A.
If group participants choose to become Community Ladders members within 30 days of the seminar, their portion of the group fee will be credited toward their start-up fee.
Interested? Contact groups@comlad.com with questions or for more information.